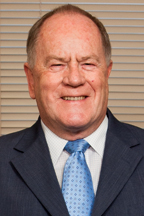 Neil Wickham, CFA
Chairman & Portfolio Manager
(905) 528-5250
Email: neil@wickhaminvestments.com
Neil Wickham has extensive experience as an investment portfolio manager with two of the largest Canadian trust companies, having managed portfolios ranging in size from $200,000 to more than $30 million for individuals, estates and trusts, foundations, pension funds, corporations and charitable organizations.
Prior to becoming portfolio manager in January 1992, Neil had more than twenty-three years of experience with stockbrokerage firms (including two firms as vice-president), as an investment research analyst and as an investment research department manager. Neil has worked on a variety of corporate financing projects with several major Canadian stock/securities brokerage firms.
Neil has earned his Chartered Financial Analyst® designation. Neil has also been very involved in a national charitable organization, for twenty-five years, on the local, provincial and national levels.